About Grinds
With B*E*A*N*S, you identify your desired grind based on your exact brewing method, out of over 15 standard choices. And, if you have any doubts as to what grind to choose, you can give us the type, make & model of your brewer in the order comments section when you check out, and we will be sure to send you the exact grind that is appropriate for you.
For general comparison purposes, see the charts, below, which describe the various grinds from extra course to extra fine and the general grind for each common brewer. The various grinds are also compared, on the top chart, to table salt, vs powdered sugar, etc.

BTW, if you are ordering whole beans to grind yourself, we suggest you use a real burr grinder rather than one that uses a spinning blade. The latter type may overheat the grounds, and they also tend to produce uneven sized grounds...leaving some big chunks while also creating too much powder. At the same time, blade grinders are not the best to produce a great espresso grind either. See below for a link to our affordable stainless steel & ceramic hand burr grinder in our coffee accessories offerings.
By the way, two brewers, that we sell, are not shown in the Grind Reference below: The Vietnamese "Phin" and the Siphon or "Vac" pot. These use a course (like in a French Press), and standard Drip grind, respectively. But, with the addition of a fine mesh permanent filter for either unit, the grind can be somewhat more fine.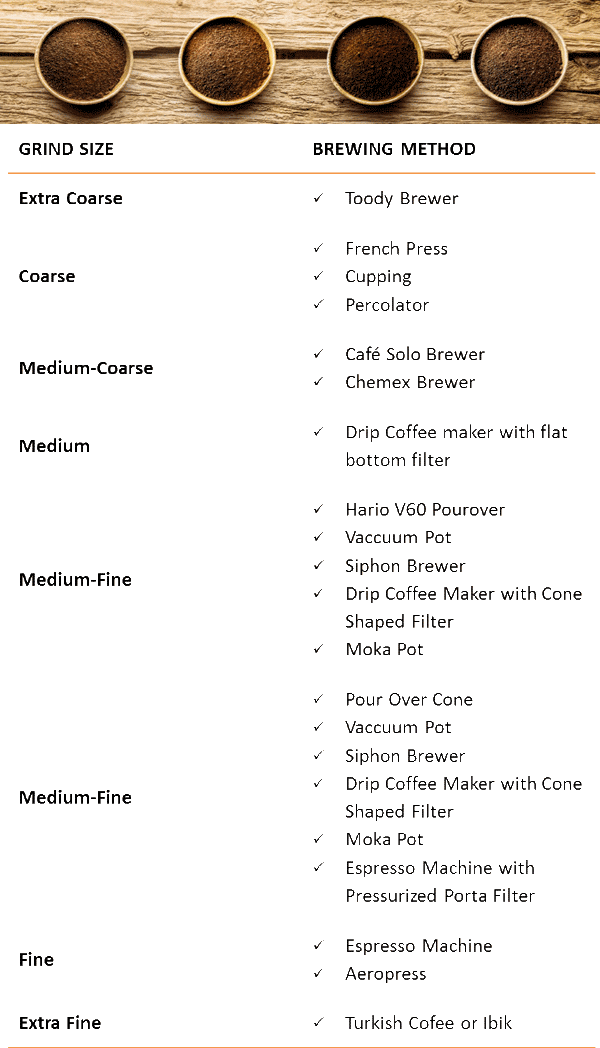 ---
Showing 1 to 1 of 1 (1 Pages)